Natural Resources Scholarships
TIMPROCT offers two single-grant scholarships each year worth $500 each.
Eligibility
The Connecticut Professional Timber Producers Association accepts applications each year for two $500 scholarships for Connecticut high school students who are planning on attending a two- or four-year school of higher education in the field of natural resources.
Scholarships will be awarded on the basis of academic achievement and interest in natural resources
Application Process
Prepare a 300-word essay on why the applicant is interested in pursuing a career in natural resources and what their long-term career goal is.
Submit the essay, application, and academic transcript to: Connecticut Professional Timber Producers Association, PO Box 508  Oneco, CT  06373
Applications must be postmarked by May 31.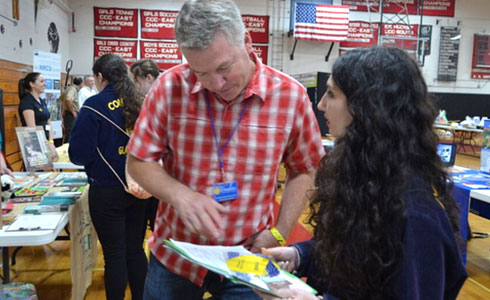 Two scholarships are awarded each year. Applications must be postmarked by May 31.
News from Our 2013 Scholarship Winners
Kimberly Sekorski Becomes Firefighter
Being outdoors is second nature to Kimberly "Kimi" Sekorski. From tree climbing competitions to raising pigs and hens to showing cattle at local fairs, Kimi, a Wamogo High School graduate, experienced the outdoors in every possible way. Going out with her father, she became accomplished at fishing and at hunting deer and pheasant. "I go hunting every chance I get," she said. After graduating from Paul Smith's college, she has been training to fight forest fires but with lots of interesting side journeys on the way. She sent this update:
"I just finished up my season. I worked on a Type 6 engine and filled in with hand crews in the area as needed. We had a pretty quiet season in Oregon, as well as most of the country. Just a lot of little fires during lightning bursts. I was able to complete my type 5 Fire Incident Commander training which is awesome. I will be back in John Day, Oregon next year probably April or May. I just accepted a position at the ranger district where I've been a seasonal permanent firefighter working as a Senior Firefighter on a type 6 engine. I'm definitely still training to rappel at some point, since getting this permanent job it would not make sense to leave the district any time soon. But a summer long detail on a rappel crew is still in the realm of possibilities."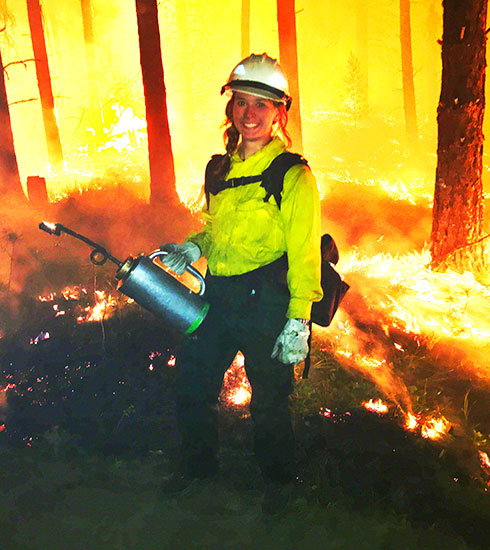 Kimi Sekorski fights fires in California.
CHRISTIAN ALLYN Focuses on Conservation
A graduate of Housatonic Valley Regional High School, Christian attended University of Connecticut in Torrington. Since graduating in 2017, Allyn has put his Bachelor's of Science Degree in Horticulture and Resource Economics to direct use. He immediately finalized the North Canaan Town Plan of Conservation and Development, fired up his business, Invasive Plant Solutions, and serves on North Canaan's Board of Selectman.
He recently shared this update with us: "The Plan of Conservation and Development is a state mandated comprehensive municipal plan which I wrote for North Canaan for free, saving North Canaan over $50,000. This led me to be elected and to the plan being adopted. The plan is currently being successfully implemented by the municipality and private industry resulting in over $5 Million in building permits in 2018 and 7 new downtown businesses opening between March of 2018 and March of 2019. The chief accomplishment of North Canaan's efforts is the reopening of the Canaan Union Depot that was formerly under restoration for 16 years after damage by arson. I'm continuing to serve on the board of the Connecticut Chapter of the American Chestnut Association as well as serving with many other non-profit and volunteer organizations in Northwest Connecticut."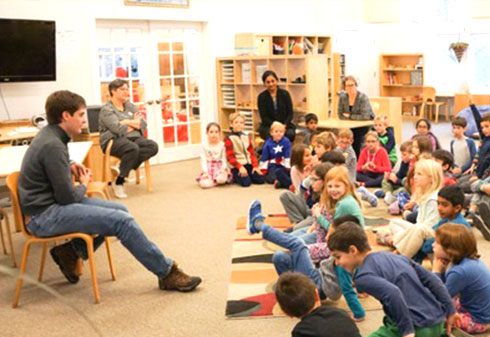 Christian Allyn reads to students at Cobb School.
CT Professional Timber Producers Association, Inc.
PO Box 508
Oneco, CT 06373
860 948-0432
[email protected]
If you'd like to submit an event or a timber-related news item, please send us an email.