As much as Joan Nichols loves cruising the woods, she's equally enthusiastic about mucking out stalls for the horses at High Hopes Therapeutic Riding in Old Lyme.
Dedicated to benefitting the minds, bodies, and spirits of people with disabilities, High Hopes offers free year-round riding instruction and even a summer camp.
Joan got involved with High Hopes years ago when a family member with a disability was referred there to help develop her abilities. Joan watched as a youngster of 3 ½ steadily gained physical skills as well as self-confidence. In fact the experience inspired the girl to join FFA program in animal science and to volunteer at High Hopes working directly with horses. By that time she was strong enough to do the hands-on work of tacking and grooming.
"She rode every Monday all year long for 18 years and only missed it when she was sick or weather conditions were really terrible," Joan recalled.  'So I decided to volunteer too. I decided to do barn work. I didn't want to handle horses directly. I have been doing that for 5 years now. Every Monday from 5 until the barn closes I do the mucking out, scrub feed buckets, clean water buckets, etc. I 'Put the barn to bed' as we say. "
That is no small task considering that there are 26 stalls and 23-28 horses depending on the need. So there could be up to 26 stalls to muck!
It's taxing work but Joan insists: "I meet a lot of wonderful people. I've worked with troubled youth bused in to do work. High Hopes also offers a veterans program. I've worked with a woman who's been deployed in Iraq, and Afghanistan  - all kinds of people. it's really rewarding."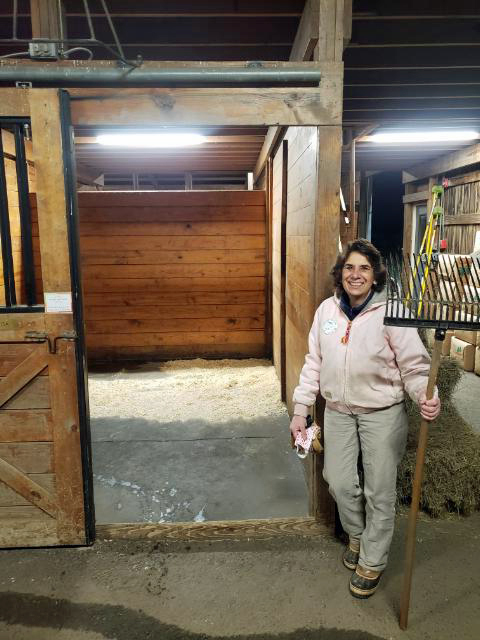 Joan Nichols has "put the barn to bed."
CT Professional Timber Producers Association, Inc.
PO Box 508
Oneco, CT 06373
860 948-0432
[email protected]
If you'd like to submit an event or a timber-related news item, please send us an email.