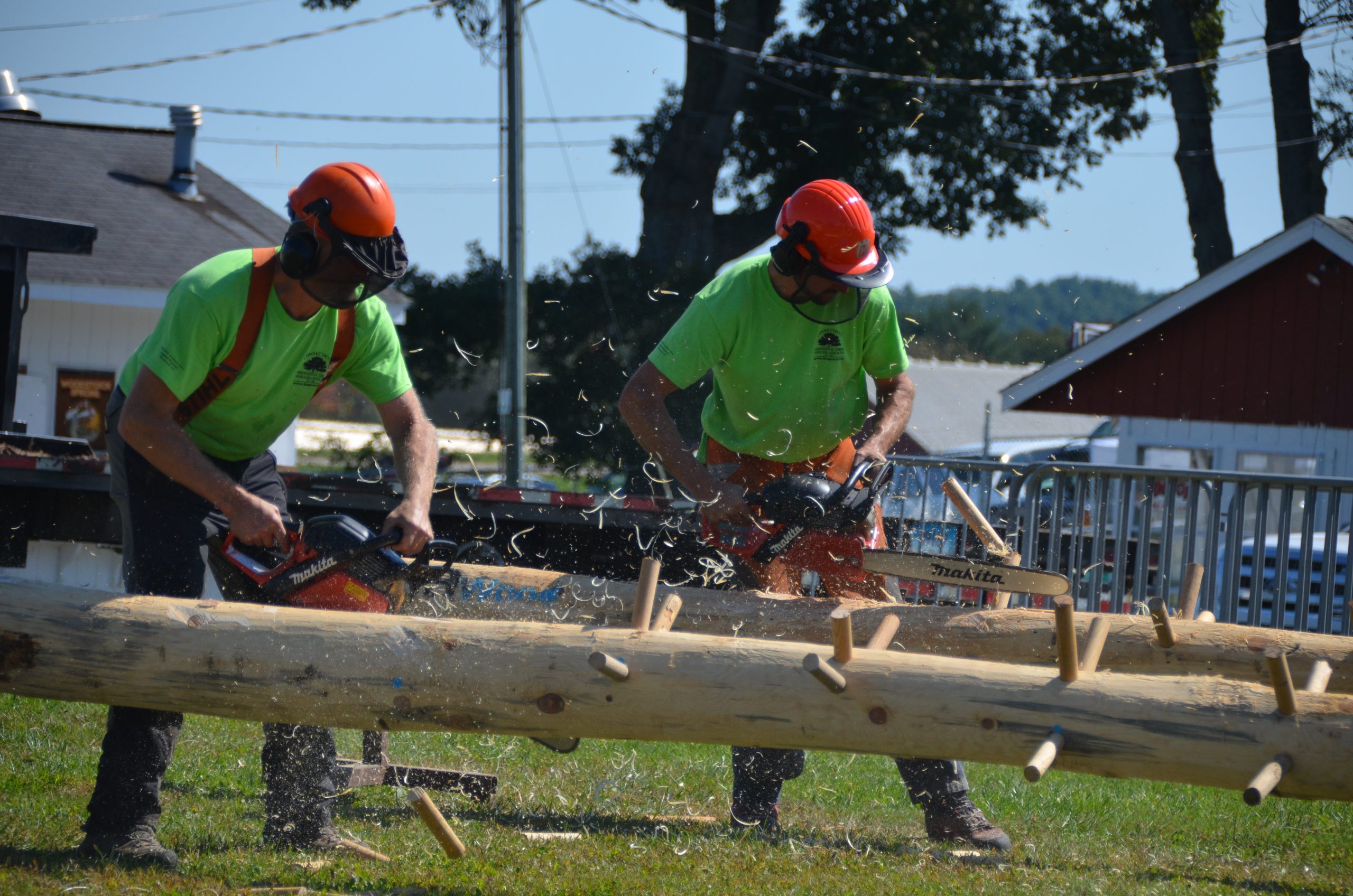 Gerald Bellows (right) and his son Jeremy promote safety in the woods.  Competing in The Game of Logging, they demonstrated best practices.
Learn from a Logger: Jerry Bellows
"Safety first" is more than a slogan to Jerry Bellows. He knows from 42-years' worth of experience (with many injuries) that logging can be dangerous.
That's why he has focused so much on safety. At one time his company was certified as a Master Logger company but he didn't start with any skills or qualifications. "I just showed up on the job of a local logger with a used chainsaw," he admitted, "there was no formal training and little instruction". Fortunately, he was working with an experienced logger who became his mentor. But "I wouldn't let him start the way I did!" Bellows says of his son Jeremy who has been working in the woods with him since high school.
Charles Levesque of Innovative Natural Resources Solutions, LLC was so impressed with Jerry's commitment to safety that he featured Jerry in this 2016 video "What is a Logger?"
Jerry notes there are many ways loggers can stay safe in the woods:
Wear high visibility cut resistant clothing and protective equipment such as steel-toed boots and hard hats with eye and ear protection.
Maintain equipment, i.e. clean & repair chain saws with broken parts, clean & maintain bars & chains daily, check all machinery thoroughly before going out on a job.
Have first aid supplies handy and refresh CPR and First Aid skills regularly.
Make sure someone knows where and when you'll be working, carry a cell phone.
Before you make the first cut, look up to identify hazards such as dead or broken branches as well as vines tangled in the tops that can pull dead branches down onto the saw operator.
Jerry recalls starting out with a used chainsaw he bought for $100. "That was before they had hand guard or chain breaks," he recalled. Today's chainsaws are engineered to be more reliable and much safer.
Protecting the environment is also a large aspect of safe logging. As a Master Logger, Bellows doesn't even start a job until he has planned machine access routes to minimize soil erosion and to protect streams and bodies of water. A quick daily briefing keeps personal from unexpectedly entering the work zone of others. If he has to cross a sensitive area, he lays down a bridge matt or protective layer of logs called a corduroy road to absorb the impact of machinery.
Working on a Connecticut Park & Forest Association forest, bridge mats were used. ("A Unique Job on a Unique Property: The Whitney Forest," The Cutting Edge, pp.6-7, March 2016)
As in any profession, loggers have many educational sources. One is the Master Logger program that uses third party verification to help loggers improve and promote a more positive image for their business. Another is The Game of Logging, a nation-wide safety training association that tests logging skills with a competition component "anything but a game". Individuals who finish the 4level/4day program are eligible for a spot at their regional competition. Skills learned during the program and perfected on the job will be put to the test. Bellows competes annually and has come in second place more than once on the national level. Now Jeremy is a ranking competitor who has placed in the $ at the national competitions.
Why would someone spend a lifetime pursuing such a hazardous activity? For Bellows, it's mostly about personal freedom. "I like being able to schedule my own time as well as choose the people I work and associate with" he explained. "I know people who've worked for 30 years on a job they don't like, with people they don't like and can't wait to retire. From my perspective that's not an inviting way to live."
"The whole forest industry is a small world and most people who stay in it for a long time are good people," he said.
CT Professional Timber Producers Association, Inc.
PO Box 508
Oneco, CT 06373
860 948-0432
[email protected]
If you'd like to submit an event or a timber-related news item, please send us an email.