A vermont transplant takes root
Born and raised on a Vermont dairy farm, Mat Derby is now a proud resident of Old Lyme, Connecticut and a new Alternate on our TIMPRO Board.
Why Old Lyme? "It's where I lay my head. My girlfriend Emily Griswold lives here and we had a little boy Griffin, now 5 years old ," he said and added that the location put him within an hour of his job sites which are mostly in the eastern half of the state. He has been working for Andy and Trish Clark for three years now.
That sounds straightforward but is quite a story in itself: "I didn't know them before I moved here. One day I saw a blue truck in a grocery store parking lot with the license plate 'Logging.' I asked my girlfriend about it but she didn't know who owned the truck. Then she saw a car with the license plate 'Logyard.' She followed it and we finally connected it to Andy and Trish."
Mat's work here is very different, though, from what he did before moving to Connecticut. In Vermont he installed vacuum systems for the maple sugar industry. "It made sense to also get into logging in order to improve the sugar bush," he said. "I grew up cutting wood every winter for my family and bought a John Deere 440 when I was 19." An outdoorsman, Mat also enjoys hunting, fishing, and driving an ATV. He returns regularly to Vermont to hunt with his two boys, one of whom is qualifying as a Youth Hunter.
So a path of twists and turns leads from Vermont to Old Lyme and, finally to TIMPRO: Mat sought out Trish and Andy about a job. They, in turn, approached him about joining TIMPRO. And now we welcome him to our Board.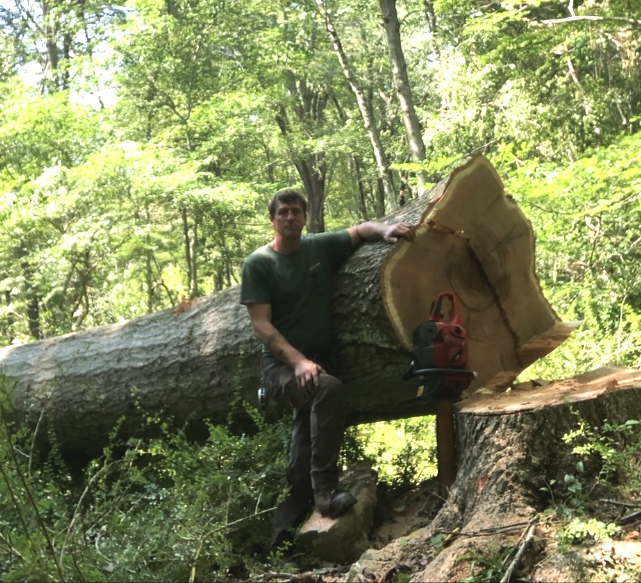 Mat Derby at home in the Connecticut Woods.
CT Professional Timber Producers Association, Inc.
PO Box 508
Oneco, CT 06373
860 948-0432
[email protected]
If you'd like to submit an event or a timber-related news item, please send us an email.