MEET OUR 2020 SCHOLARSHIP WINNERS
     DANIELLE GORAT
Danielle "Dani" Gorat is no stranger to TIMPRO. A graduate of Housatonic Valley Regional High School, she prepared for an Envirothon with TIMPRO Board member Joan Nichols. Her team won the 2019 Connecticut State championship. At the national competition in Raleigh, she competed against teams from all over the USA as well as teams from China.
All Dani's activities grow out of her deep interest in natural resource issues. Chapter Secretary this past year for FFA, she participated in Forestry Career Development and Natural Career Development, and Prepared Public Speaking events – all this while serving as senior field hockey Captain. Committed to excellence, she also has garnered many awards including the 2019 Chapter Star Award in Agriscience and the 2019 Environmental and Natural Resources Entrepreneurship Award as well as awards for field hockey.
David Moran, her FFA and Envirothon advisor, praised Dani's outstanding efforts to tell the FFA Chapter story through outreach to newspapers, radio, and social media. "This is a significant contribution and responsibility," he noted, "as she acts as the face of our chapter." He also highlighted her organizational skills enabling a three-week fundraising effort to raise over $70,000 for her student activity fund and local food banks. She also organized a chapter banquet and awards program for over 300 people from the school and community.
A thread that runs through Dani's studies as well as her personal life is her love of fishing. "One of the reasons I want to pursue a degree in natural resources is because I enjoy fishing and hiking a lot. In the area where I live there are a lot of different spots to go fishing. Whether it's bass fishing on a nice hot summer evening or fishing for trout in the spring or fall on the great Housatonic River, I love it all," she said.
Dani also likes to hike. She recently scaled Mt. Tom with her friends and hikes trails in nearby White Memorial Foundation. She also enjoys hunting, especially hunting deer with a bow and arrow. At home, she tends to her four-year old cats Panda and Ivory and three dogs – Chance and Hunter, both nine-year olds, and two-year old Pluto.
Starting August 17 at SUNY Cobleskill, Dani plans to study wildlife management and become an environmental conservation officer. "I want people to understand why wildlife management and conservation are so important.
MICHAEL HANLON, JR
Michael Hanlon, Jr. is an Eagle Scout, a world traveler, and more. A 2020 graduate of Housatonic Regional Valley High School, he plans to get a 2-year associate degree in natural resources at Northwestern Connecticut Community College followed by a business degree.
"I have always enjoyed the outdoors and value our beautiful country," he wrote in his application essay." Participating in many local field service projects deepened his love of the outdoors and honed his skills. At West Hill Pond, he helped improve storm runoff channels by building a retention pond to hold runoff. His team also cleared debris from hiking trails and cut back invasive plants. For his Eagle Scout project, he helped restore the visitor's sign, repaint the bench, and landscape the area around it in the center of Falls Village. He and his team also spent several weeks replacing rotten wood in the visitor's center and repainting the bench there.
Michael draws inspiration from family camping trips to state and national parks. He has gone winter camping in the Adirondacks but his favorite trip was to the Great Smokey National Park in the summer of 2016. "This is where I knew my career choice," he said. He hopes for a career in conservation resource management working with a federal or state agency. His high school coursework included activities with the CT DEEP Divisions of Wildlife, Fisheries, and Law Enforcement. He was able to observe best practices at Sessions Woods Wildlife Management Area, the Great Mountain Forest, and Sharon Audubon along with meeting numerous local environmental professionals.
David Moran, Housatonic Valley FFA advisor and Scout Master, praised Mchael's drive and interest in academic and public service activities. Noting his landscape restoration work for Falls Village and other volunteer projects, he concluded, "Michael has a solid reputation in the school, too, as a general all-around good human being."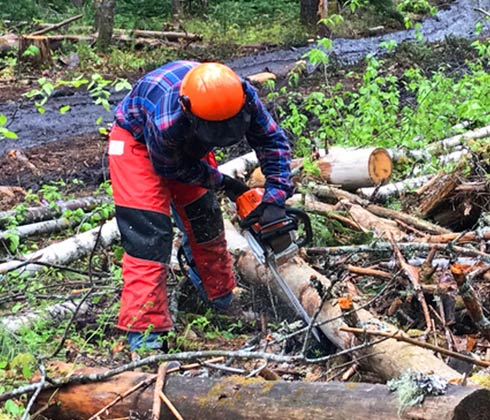 Learn more
For more information, please get in touch.
CT Professional Timber Producers Association, Inc.
PO Box 508
Oneco, CT 06373
860 948-0432
[email protected]
If you'd like to submit an event or a timber-related news item, please send us an email.